Medical
WORKING IN A HOSPITAL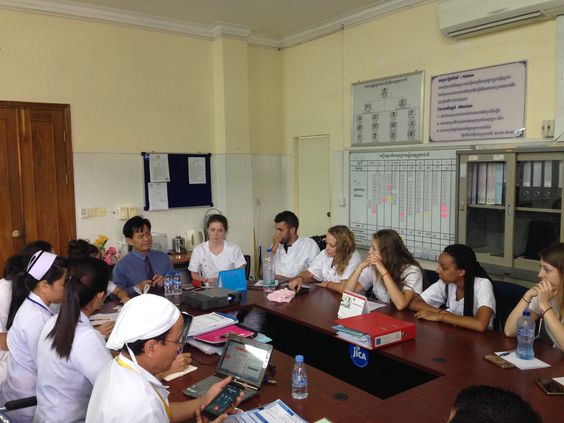 During the Vietnam war, at the end of the 1960s, Cambodia was driven into a civil war. Subsequently, the Khmer Rouge led by Pol Pot seized power and started experimenting in social engineering, completely destroying the social structure in Cambodia. Sadly, during that time, many doctors and educated medical professionals were killed. Nowadays, medical facilities and services in Cambodia do not meet international standards. Volunteering in Cambodia is an excellent way to become involved in some of the poorest medical institutions in the developing world. Cambodia has a limited number of internationally-run hospitals that can provide basic medical care and stabilization. Volunteers will work in one of the state hospitals in the city.
Volunteers' Responsibilities
The responsibilities at the hospital will vary depending on your background and previous experience. Volunteers are generally work alongside the nurses and doctors. Volunteers will have the opportunity to observe work in many departments. Volunteers need to complete at least one year of medical school, nursing school or related training to join this project. For Surgery department volunteers need to have at least three years' experience.
Requirements
Flexibility to participate in many different tasks.
Creativity and initiative in an environment with limited resources.
Have complete at least one year of medical school or related training.
Project Location
Phnom Penh:
Phnom Penh is also a good base for trips through the country as it is very central. Bus tickets to nearby locations are readily available for purchase at your guesthouse, departing to many different locations in Cambodia and neighboring countries at many times throughout the day. These tickets are generally very inexpensive and can range between $8-$12. Common destinations include Angkor Wat and Siem Reap (5-6 hours), the beaches of Sihanoukville (four hours), Kampot (3 hours), and Battambang (5-6 hours).
More About Phnom Penh (what to do, sightseeing, exploring)
Start Dates: Every first and third Monday of each month.
Minimum Stay: 2 weeks
Duration: 2-24 weeks
Accommodation: Volunteer Guesthouse
What's Included
What's Not Included
Flights to/from Home
Local transportation to and from project site
International Medical Insurance
Cambodia visa costs
Apply Now