Teaching English to Buddist Monks
TEACHING ENGLISH TO BUDDHIST MONKS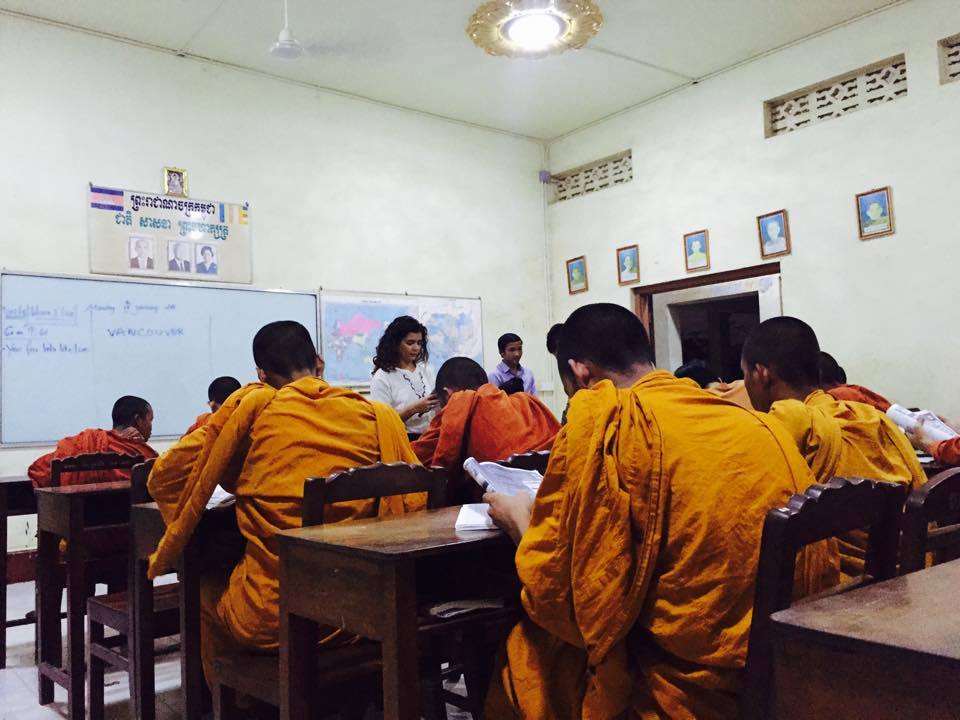 In Cambodia, Buddhism is a religion of nation. 95% of the Cambodians believe in Theravada Buddhism, and the monks hold an important place in society. As known, for Cambodians, Buddhism is more than just a religion. Pagoda's (Buddhist temples) are also important for education, many monks have the opportunity to study which they would not if they were not monks. During the Khmer Rouge time, the majority of monks have been killed and nearly all temples have been destroyed. But afterwards, Buddhism once again became the state religion and every Buddhist boy is expected to to become a monk for a period in his life. Volunteer conducting English language classes in the pagodas.
Volunteers' responsibilities
Volunteer teach approximately 3-4 hours per day. Volunteer teach English to the monks, both old and young monks. The level of English will vary dependent on which class that are assigned. Most importance is to improve their basic English and conversational skills. Volunteers should be prepared lesson plan for each lesson. It is important to note that monks are highly respected.
Requirements
Culturally sensitive and flexible are requested in this program.

Volunteer should have strong English fluency for both written and verbal.

Volunteers should have a love for teaching and conversation.

No previous teaching experience is required.
Project Locations
Phnom Penh:
Phnom Penh is the capital of Cambodia with a population of about 1.5 million people. Phnom Penh is a very international city, you will find a lot of western bars, supermarkets offer western articles, and especially the riverside is the spot for diplomats, travelers and international NGO-workers. But of course, you will also find the Cambodian Culture everywhere in the city. Walk around the different markets, try the food of the food stalls at the street or just walk around the streets, there is really always something to explore.
More About Phnom Penh (what to do, sightseeing, exploring)
Siem Reap:
Set in North West Cambodia, Siem Reap is best known for being home to the incredible Angkor ruins with the magnificent Angkor Wat as the focal point. While the complex is surely one of the globe's most amazing historical sites, the Siem Reap province is also home to an array of other ruins, such as Beng Mealea and Bantaey Srei.
More About Siem Reap (what to do, sightseeing, exploring)
Start Dates: Every first and third Monday of each month
Minimum Stay: 4 weeks
Duration: 4-24 weeks
Accommodation: Volunteer Guesthouse
What's Included
Pre-departure information
Airport pick up
Volunteer Handbook
Food and accommodations (3 meals a day)
A fixed contact person from the program, who will stay in contact with you, answer all your questions
24 hour emergency contact
One day orientation plus city tour
Onsite Coordinator
A certificate after successfully complete the project
What's Not Included
Flights to/from Home
Local transportation to and from project site
International Medical Insurance
Cambodia visa costs
Apply Now